Mastering Vegan Outreach – Day 1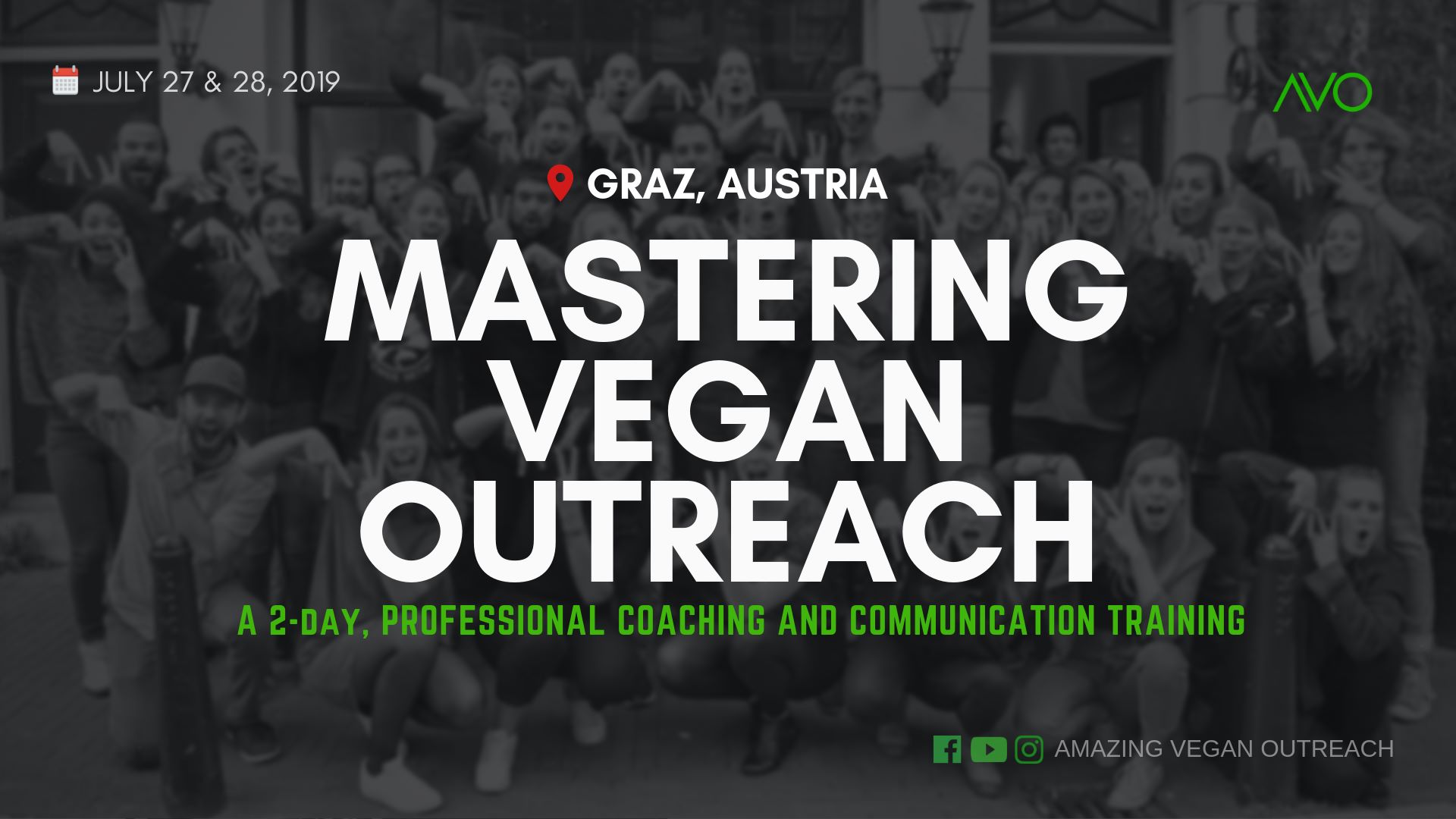 When:
July 27, 2019 @ 09:30 – 18:00
2019-07-27T09:30:00+02:00
2019-07-27T18:00:00+02:00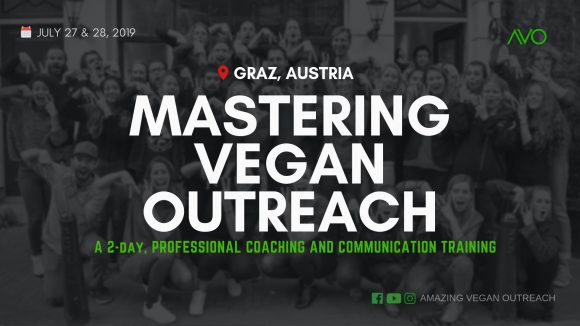 **IF YOU PLAN ON ATTENDING, PLEASE READ THE FULL DESCRIPTION BELOW AND MAKE SURE TO CLICK THE REGISTRATION LINK**
Day 1 – Saturday, July 27: 9:30 am – 6:00 pm
Day 2 – Sunday, July 28: 9:30 am – 6:00 pm
Location: Spektral – Lendkai 45, 8020 Graz
To participate in this 2-day, professional outreach workshop, please complete the two steps below. Once you have registered, you will receive an email with more instructions.
1. REGISTER HERE: https://masteringveganoutreachgraz.eventbrite.ca
2. COMPLETE THIS FORM:
https://forms.gle/prUfXuUWW2QMECY29
———
AVO provides activists with a professional communication skillset to increase success rates in one-on-one, vegan outreach conversations. Adapted from corporate sales trainings, this workshop is intended for activists who engage in street outreach, VR Outreach, and conversations with friends, co-workers, and family. If you would like to get more people to go vegan on the spot, or agree to take challenge22, do not miss this training!
Former Corporate Sales Director, Alex Bez, has spent the last 10 years training and coaching hundreds of salespeople. In this workshop, activists will learn advanced communication skills, be able to practice these skills, and receive feedback. After the workshop, you will be able to adapt to different personality types (aka. social styles), build rapport and gain trust quickly, structure outreach conversations for maximum impact, ask the most effective types of questions, handle objections to veganism like a pro, and ultimately, get more people to commit to going vegan or trying challenge22!
—————————————
Please note that this workshop is not an introduction to veganism. Participants should have a firm grasp on general vegan knowledge (ethics, nutrition, environmental impact, etc.) and have some experience speaking with others about veganism.
NB: There is no price to attend this workshop. AVO is proud to operate on the principles of Gift Economics. This workshop was generously provided as a gift to you by all the activists who participated in the previous Mastering Vegan Outreach workshop. During this workshop, all participants will be encouraged to make a gift (based on their ability) in order to provide this workshop to future participants. Gifts will be accepted in the form of cash, PayPal and Patreon.
Looking forward to seeing you there and developing together as animal rights activists.