Veranstaltung: Flucht als Verbrechen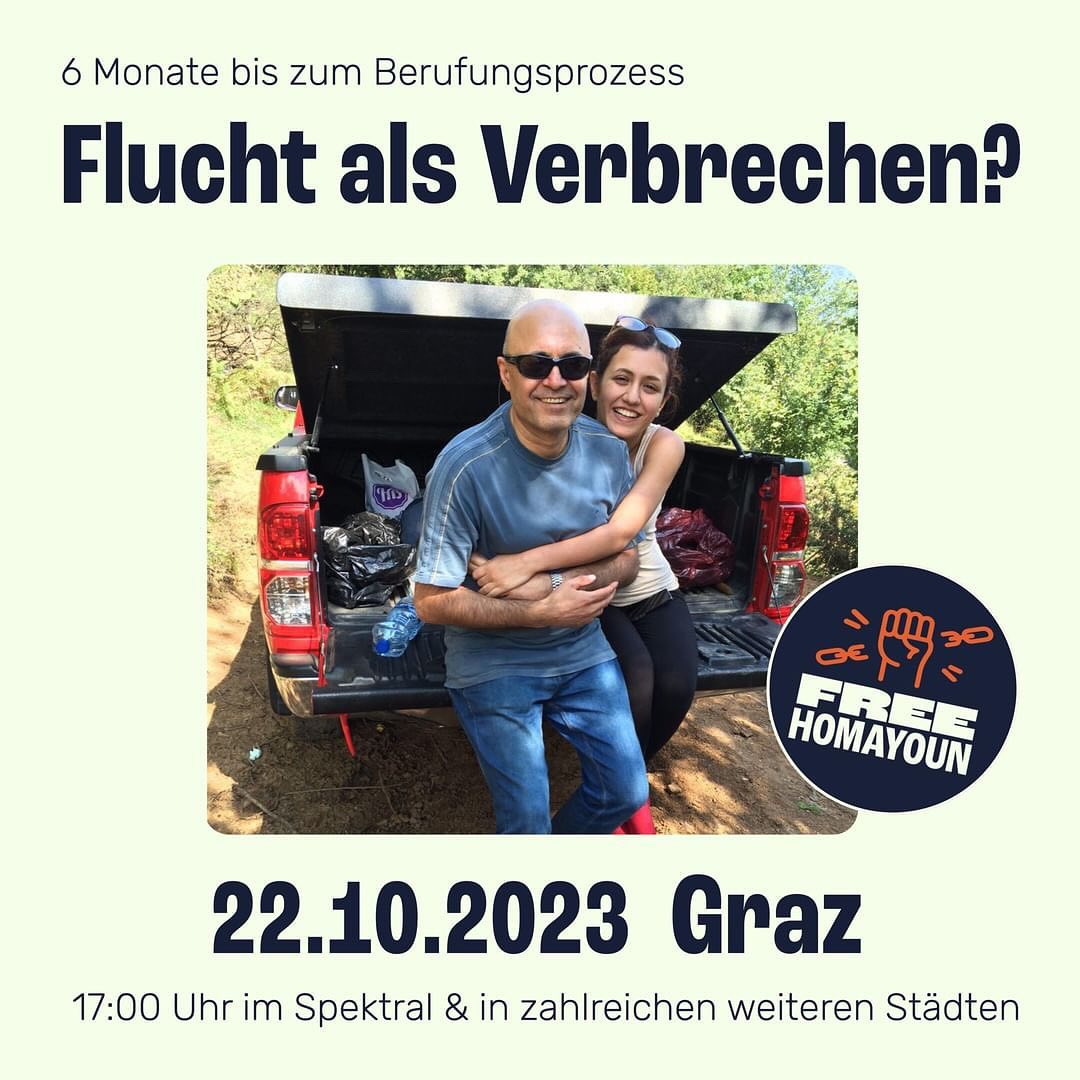 When:
October 22, 2023 @ 17:00 – 20:00
2023-10-22T17:00:00+02:00
2023-10-22T20:00:00+02:00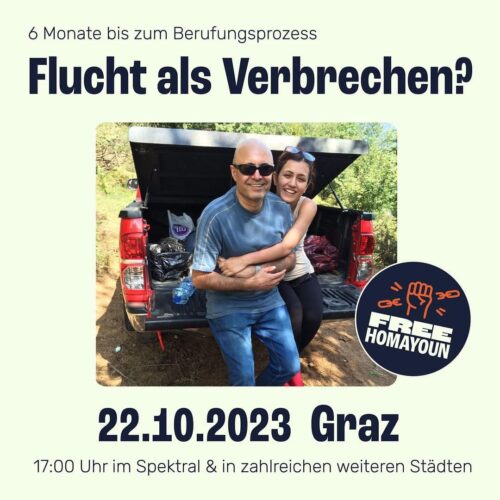 Am Rande der öffentlichen Wahrnehmung werden derzeit Tausende von geflüchteten Menschen in Italien und Griechenland zu drakonischen Haftstrafen von teilweise 100 Jahren und mehr verurteilt. Diese Prozesse dauern durchschnittlich 38 Minuten und enden für die Angeklagten mit durchschnittlich 44 Jahren Haft. Das Verbrechen ist ihre Flucht, der offizielle Vorwurf "Beihilfe zu illegalem Grenzübertritt".
Am 22. Oktober 2023, 6 Monate vor dem Berufungsprozess von Homayoun, findet dazu um 17 Uhr im Spektral Graz (Lendkai 45) ein Workshop statt. Im Workshop werden Beispiele vorgestellt, ein aktueller Überblick über die Kriminalisierung geflüchteter Menschen und der zivilen Seenotrettung vermittelt, die Verfahren in den Kontext europäischer Abschottungspolitik gestellt sowie mit den Teilnehmenden diskutiert und Handlungsperspektiven im Umgang mit dieser Kriminalisierung erarbeitet.
//
On the fringes of public perception, thousands of refugees in Italy and Greece are currently being sentenced to draconian prison terms of sometimes 100 years or more. These trials last an average of 38 minutes and end with an average of 44 years in prison for the defendants. The crime is their flight, the official charge "aiding and abetting illegal border crossing".
On 22 October 2023, 6 months before Homayoun's appeal trial, a workshop will take place at Spektral Graz (Lendkai 45) at 5 pm. In the workshop, examples will be presented, a current overview of the criminalisation of refugees and civilian sea rescue will be given, the proceedings will be placed in the context of European policies of sealing off and discussed with the participants, and perspectives for action in dealing with this criminalisation will be developed.
#freehomayoun