SP030 #Substral In Thin We Trust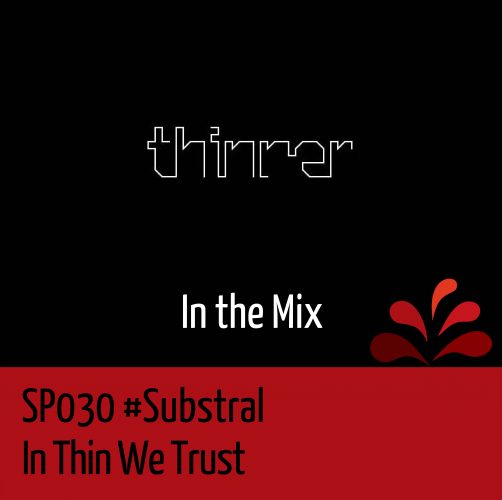 Dieses Mal wieder freie Musik. Eine Stunde, in the Mix. Von deluge der sich durch das Archiv vom Thinner Netlabel gewühlt hat. Das Label existiert mittlerweile nicht mehr, viele der Releases gibt es aber nach wie vor bei scene.org.
Alles unter Creative Commons Lizenz – zum weiterverteilen und runterladen!
Shownotes
IN THIN WE TRUST
MIXED BY DELUGE
DATE : 01.09.2004
01.[thn044]_01-mateo_murphy_-_womb
02.[thn059]_02-theodor_zox_-_b.script
03.[thn043]_02-pheek_-_a_new_soulfullofwind
04.[thn045]_04-dick_richards_-_(fingerscent-pheek_rmx)
05.[thn057]_06-jason_corder_-_berlin_wall
06.[thn054]_04-benfay_-_warm_home
07.[thn052]_02-dennis_desantis_-_on_the_gripping_hand
08.[thn040]_03-surphase_and_rktic_-_elbwaerts
09.[thn055]_09-selffish_-_lo-fi_funk_67
10.[thn058]_10-mikkel_metal_-_abank-(theodor_zox_remix)
11.[thn041]_02-chronolux_-_returning
12.[thn043]_09-pheek_-_a_new_soulfullofwind_(mateo_murphy_remix)
13.[thn050]_03-m.jarl_&_j.fotmeijer_-_cant_stand_to_be_alone
all tracks are downloadable for free from
http://www.thinnerism.com ›› scene.org
This MP3 file is licensed to the public via
https://creativecommons.org/licenses/by-nd-nc/1.0/legalcode.
Summarized, it is allowed to listen, copy and burn this MP3 file for
private purpose. It is not allowed to copy, sell, use this MP3 file
for commercial purpose. Modifications of this MP3 file are not allowed.
All songs are copyrighted and rights are reserved to the authors and
Thinnerism.com.

Podcast: Play in new window | Download (Duration: 1:00:16 — 55.3MB)
Subscribe: RSS